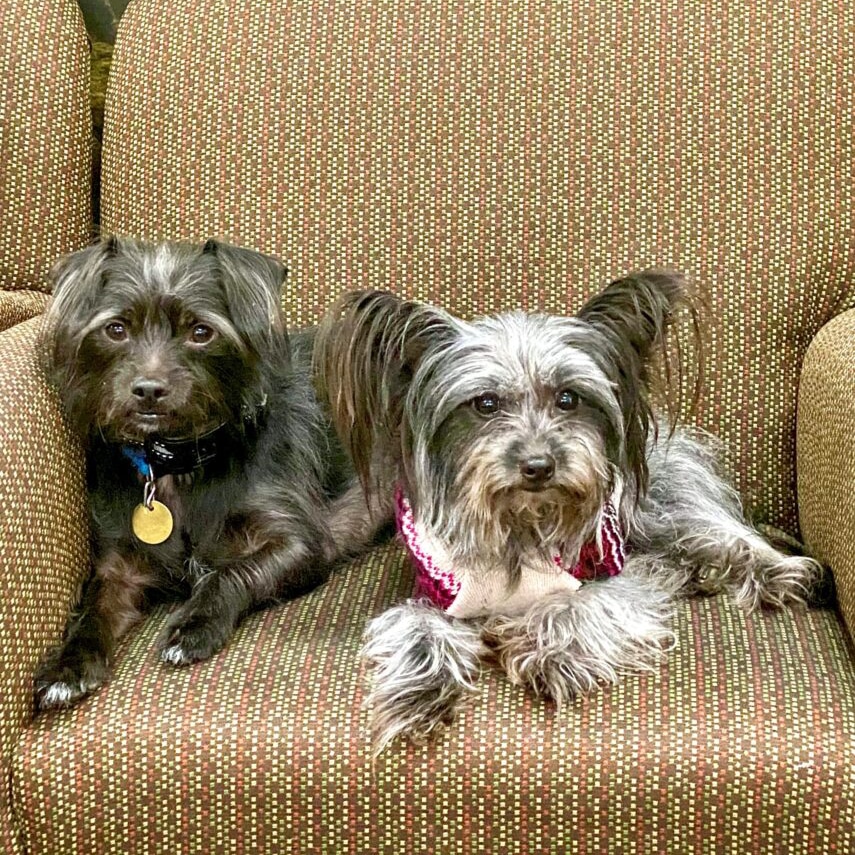 Shadow & Millie
Shadow, age 4 ( I think)
Therapy Rescue Dog (in that I need therapy!)
Hello, I am Shadow and I am a Terrier Mix. You will probably see me (and hear me) at Beyond Healing. I am still working on my social skills, so please have patience with me if I bark and appear anxious. I was found on the streets and was very thin, malnourished, afraid, and hurt. I have been at Beyond Healing since November 2021. I struggle with attachment issues and anxiety. Beyond Healing is my FOREVER home. I was very abused and traumatized and the nice counselors at Beyond Healing have helped me to heal and learn to trust people again. I usually come in for therapy 5 days a week and the nice people at Beyond Healing have made me feel supported, safe and loved. I hope you find the love, healing, support and connection that I have found here.
Milagro "Millie", age 6 (we think)
Therapy Rescue Yorkshire Terrier Dog
Hello, I am Shadow's little sister, Millie. I am new to Beyond Healing so I know what it is like to go to therapy for the first time and the amount of courage it takes to turn your life around. That is what I am doing and I would like to help you on your journey too. I struggle with eating issues, and self-esteem. Milagro means miracle and that is what I have found at Beyond Healing. I am very thin and malnourished, but I am very sweet and really appreciate that my big brother, Shadow and the counselors make me feel so welcome, safe, and loved. You will see me wandering around Beyond Healing. I like following people, making new friends and helping people feel better. If you would like me to visit your session, just ask my counselor, Dr. Snow, or the front desk and it can be arranged.