Eye Movement Desensitization and Reprocessing (EMDR)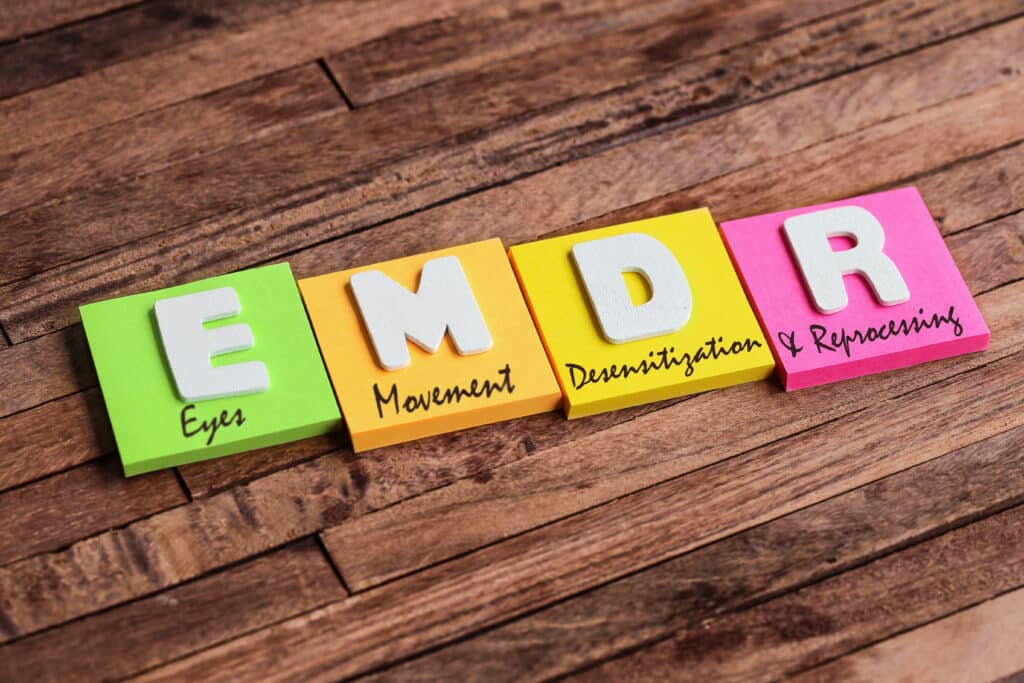 Eye Movement Desensitization and Reprocessing
EMDR is an acronym for Eye Movement Desensitization and Reprocessing. Eye Movement Desensitization and Reprocessing is a trauma-focused cognitive behavioral method used to treat a traumatic memory through pairing a problematic issue or event while using eye movements from left to right or other dual attention methods. In following standardized protocols for memory processing, EMDR allows the brain to work through the trauma. The processed memory now has a reduction in intense emotions and other symptoms that were associated with it. EMDR helps clients uncover and process beliefs that developed due to trauma. EMDR uses the brain's natural ability to heal itself so that normal information processing is resumed.
Some of the benefits of EMDR:
Generally, fewer sessions are needed to show results than traditional therapy.
Significantly reduced exposure to the distressing memory.
Does not involve homework assignments.
Does not require that the person shares in detail their trauma with the therapist.
EMDR uses 8 phases
History Taking – learning about you and your past and determining if EMDR is appropriate.
Preparing the Client – explaining the EMDR process and giving tools to navigate the process.
Assessment – helps you identify specific memories or issues you want to work on.
Desensitization and reprocessing – the therapist helps you retrieve the memory and associated beliefs, feelings, and sensations.
Installation- the therapist will help you identify the positive belief you want to pair with the memory.
Body Scan – helps you identify any remaining symptoms.
Closure and stabilization- provide a safe and calm ending to the session and plan with the client for the period between sessions.
Re-evaluation and continuing care – evaluating progress and future planning.
What can EMDR treat?
PTSD and other Trauma
Anxiety, Panic Attacks, and Phobias
Disturbing Memories
Depression and Bipolar Disorders
Abuse victims
Stress Reduction
Addictions
Dissociative Disorders
Clients diagnosed with a wide range of disorders from anxiety and depression, anger and aggression, grief, life transitions and trauma can benefit from a treatment protocol emphasizing EMDR. For someone looking to heal in a minimally invasive treatment, EMDR is an effective, evidence-based therapy. EMDR can also be used in play therapy for any child or adolescent looking for help and support in stages of growth issues such as injury, bullying, separation anxiety, social anxiety, separation/divorce, death of a family member or pet, depression, and all forms of trauma. In play therapy, EMDR is used a little differently by allowing the child to create the perfect environment for safety and healing. Eye movements are replaced with other forms of Dual Attention Stimulation (DAS) in a more fun and positive way. Children will use music, drumsticks, play hand drums, use foam swords and magic wands, follow finger puppets and float like a butterfly to allow children to keep attention firmly in the present while processing more difficult memories. Clients will be able to draw, set up action figures, blow bubbles and use many other forms of creativity to move from negative thoughts to a more positive state of self-worth and curiosity.
"The American Psychiatric Association, the American Psychological Association, the International Society for Traumatic Stress Studies, National Alliance on Mental Illness, the Substance Abuse and Mental Health Services Administration, the U.K. National Institute for Health and Care Excellence, the U.S. Dept. of Veterans Affairs/Dept. of Defense, The Cochrane Database of Systematic Reviews, and the World Health Organization, among many other national and international organizations, recognize EMDR therapy as an effective treatment." EMDRIA.org